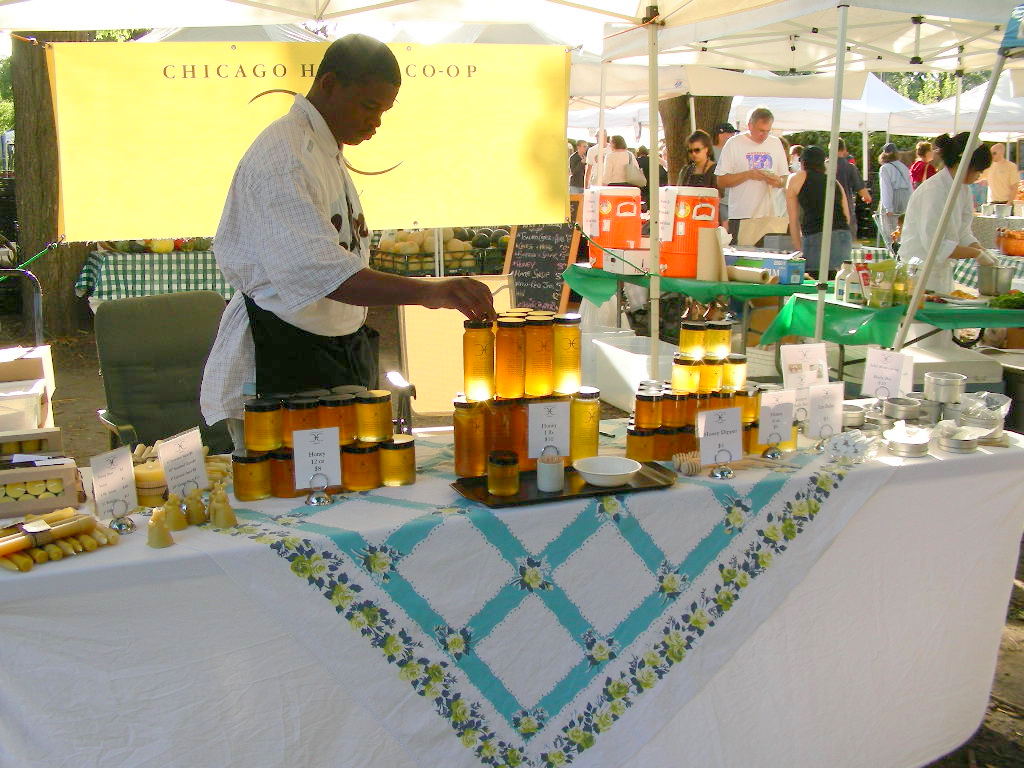 who we are
Chicago Honey Co-op is a registered agricultural cooperative in the State of Illinois with about 19 members. Some are beekeepers, others just want to support what we do. Along with keeping bees, harvesting honey and taking it to farmers markets, we practice and advocate for sustainable agriculture, and awareness of the natural environment.
Since we began in 2004, beekeeping has become more and more popular but also more and more challenging. We lose many hives over the Winter and have to replace them each Spring. Despite the challenges, we really love what we do and hope to continue for many years to come.
Three Apiaries
After losing our longtime location in North Lawndale in 2012, we are now located at several apiaries, or bee farms as we like to call them.
Schulze & Burch Biscuit Company in Bridgeport is home to about 20 hives, the green rooftop of Christy Webber Landscaping hosts several hives, 12 hives are located in Back of the Yards near 51st and Racine and 2 hives are at Patchwork Farms on West Chicago Avenue. We have been tending the bees and harvesting raw honey from chemical free beehives since we started and with the help of these two businesses, we can continue our work.
Farmers Markets
During the Summer and Fall we love to meet our customers in person at our two farmers markets in Chicago. You can find us at Chicago's Green City Market and Logan Square Farmers Market.
You can see our market schedule on our Events page. We are proud to say that in 2010 our honey became Certified Naturally Grown which is a grass roots alternative to organic certification.
Education
With education becoming more and more a part of our work over the years, we made the decision in 2011 to start a 501c3 partner organization called Chicago Honey Co-op Training Center. In August of 2014 our application was approved and we invite you to take a look at Chicago Honey Co-op Training Center
Raising Queen Bees
All beekeepers lose a portion of their hives each year and must replace those bees with ones purchased from Southern or Western beekeepers who have a longer beekeeping season. We don't believe it is a sustainable way to continue beekeeping. We want to reduce our dependence on this supply by raising our own honey bee queens. Doing this will enable us to reduce the yearly expense of buying package bees and allow us to derive extra income from sales of queens and nucleus hives to other local beekeepers.
In the 2018 beekeeping season we are happy to say we produced enough queens to supply our own need for replacements during the season and were able to help out a few other beekeepers who needed queens.
preSERVE Partnership
The preSERVE garden is a partnership between the North Lawndale Greening Committee, NeighborSpace, Slow Food Chicago and Chicago Honey Co-op. Located at 12th Place and Central Park in Chicago, this garden is an example of how much food can be grown in an average Chicago city lot. Volunteers from throughout Chicago help to maintain this garden where fruit trees and strawberries grow alongside back eyed peas, crowder peas, sweet potatoes, collards, peppers, tomatoes, garlic and much more.